"There is no logical way to the discovery of these elemental laws. There is only the way of intuition, which is helped by a feeling for the order lying behind the appearance." - Albert Einstein
Though many may assume we've been studying this finance thing so long we've got it all figured out, the fact is that exciting new discoveries in basic things like interest rate modeling still happen. In fact, the period in which we now find ourselves - a relatively long stretch of extremely low rates in a post-Bretton Woods era has led to a recent discovery in understanding interest rate movements. A paper in the March 2013 issue of Quantitative Finance entitled The nature of the dependence of the magnitude of rate moves on the rates levels: a universal relationship by Nick Deguillaume, Riccardo Rebonato, and Andrey Pogudin (sets you back $37 for the download) describes how interest rates move in a way that is incredibly robust across markets, currencies and decades, even centuries, of interest rate history. It's a missing link discovered!
The authors investigate the behavior of interest rate changes and whether or not they varied based upon the level of interest rates themselves. This question is of critical importance to hedgers, speculators and frankly anyone who wants to use interest rate models. Most pricing models suffer from a very limited number of factors (often just one!) and as such don't exhibit particularly realistic yield curve changes over time. And then the question is, do changes in rates occur as a percentage of rates themselves (log-normal) or do changes happen in basis points terms (normal model). In the words of the authors,
"Despite the importance of the issue, a direct analysis covering a wide range of rate levels has only recently become possible thanks to the period of very low rates many currencies have entered in the last few years."
As described below, they essentially discover three answers or "regimes" dependent on the level of rates themselves. The degree to which the model fits, with little or no change to the parameters, decades and even centuries old history of different markets and currencies is really impressive and fascinating. The results are roughly as follows:
Rates below ~1.5% - In easy money environments rates tend to follow a proportional (lognormal) process reflected by a percentage of the rate
Rates between ~1.5% and ~6% - With rates in a more normal range rate changes appear to be independent of the rate level, moving in basis points i.e. normal volatility such as in Vasicek's original 1977 mean reverting model.
Rates over ~6% - Rates return to moving in a proportional (lognormal or even hypernormal) manner, scaled by the level of the rate itself
See Figure 11 below from their paper.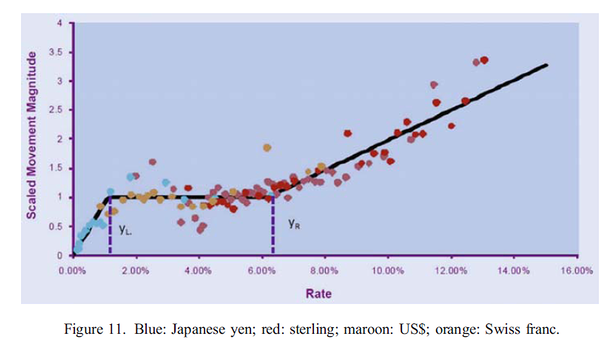 What's this got to do with public finance, you ask? To the extent that the dark art of public finance is in part about managing interest rate risk through new money and refinancing, a whole lot. Stay tuned…